WELCOME!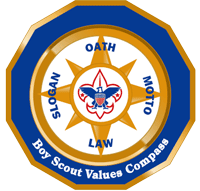 Dues are currently $215 for new Scouts and $190 for returning Scouts. New Scouts will be given a Scout handbook, and the Troop numbers.
There are two forms that are needed to register a new Scout, one is the BSA registration form, the other is the health form (72 hours or less).  For summer camp, a health form (72 hours or more/camp) signed by a health professional is needed.  Both types of health forms can be found and downloaded at this Scouting web site:
Electronics – Scouts will not have cell phones, music, or gaming devices at meetings, and campouts.  A reading Kindle is approved.  Scouts in leadership roles may only use electronic devices, if needed, in a structured teaching capacity.  Scouts in a leadership role may use electronic devices to aid in planning at designated times and at planning meetings.
Uniforms – Approved green pants and BSA shirt worn at all meetings and while traveling to and from Scouting activities.  Shirts are to be tucked in at the start of all activities.  Class B uniform at summer camp is to be worn – Scout shorts and Troop t-shirt.
Cooking – No hotdogs, hamburgers,or pre-made (packaged) food for Patrol
Campouts – a more complete list of what to pack is included in the Scout Handbook.  However, here is a short list of things to pack.
Your Personal Equipment:
– A good backpack
– A pack cover (like a large trash bag)
Sleeping Gear:
– Lightweight sleeping pad
– Sleeping bag
Toiletries:
– Lightweight towel
– Toilet paper (not a whole roll!)
– Tooth brush and paste
Other:
– Canteen(s) with water
– Personal first aid kit
– Headlamp with fresh batteries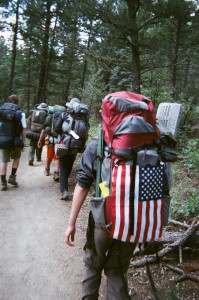 Layering – Scouts should dress appropriately for the weather, using layered clothing so they can regulate their comfort. For example, a sweater, fleece, and rain shell are preferable to one big, puffy, down coat.
Hiking Boots and Shoes – The precise type of footwear can depend on the trail.  Sneakers are not suitable.  Soft soled hiking footwear with lightweight construction can be suitable for fairly flat trails with even surfaces like gravel, crushed stone, and dirt. Their lightweight is a significant advantage when hiking a long distance.  Hiking shoes without ankle support also can be suitable for fairly flat trails with even surfaces like gravel, crushed stone, and dirt. As trails get steeper and bumpier, footwear for backpacking should become sturdier. Harder soles will protect the feet from bruising and supported ankles will help avoid twists and sprains. Remember that a 25 to 35 lb. pack will add to the wear and tear on your footwear.  In wet conditions, waterproofed leather or Gore-Tex lined boots are necessary as wet feet can contribute to the formation of blisters and hypothermia.  Regardless of boot design, proper fit is absolutely necessary to avoid blisters.  Finally, new footwear tends to cause blisters.  Scouts should wear their new hiking boots or shoes frequently in the weeks prior to any hiking or backpacking event.
AUTUMN BACKPACKING EQUIPMENT LIST FOR OVERNIGHTER
Hiking Socks – Not every sock is suitable for hiking. Hiking socks typically are thicker, particularly around the sole, heal, and toes. They should be wool or synthetic materials and fit snuggly.  Many backpackers use liner socks, which are thin socks made of synthetic material like polypropylene. These socks are designed to wick moister away from your feet and into the outer sock.  They also fit close to the foot so the boot and outer sock rub the liner, not your skin. By reducing moisture and rubbing on the skin, liner socks in theory reduce the blistering. Liners are most appropriate for stiff, alpine boots, and hikers using lightweight boots frequently do not use liner socks.
Hats – Hats keep our heads warm and shield us from sun, rain, and bugs. Pick a hat that best suits your needs, whether it is a baseball hat, a soft brimmed hat, or a knit hat. Keep in mind that hard brims that cover the back of the neck– like on cowboy hats – are not suitable because the brim will knock against the backpack.
Gloves and Mittens -In late autumn, lightweight gloves or mittens should be worn or be in your pack. They should be made of wool or synthetic material, and preferably, have a water resistant shell. Mittens are warmer than gloves.
Long Johns – highly recommend and avoid those made of cotton.
Pants -Versatile pants that have cargo pockets and even zip-off legs are great. They should be made of synthetic material so that they dry quickly and stay warm. The BSA's Polyester Microfiber Switchbacks meet these criteria. Wool pants are another great option when the weather is clearly going to be cold. Sometimes army surplus stores are the best place to buy wool pants.  Cotton jeans shouldn't be brought backpacking; they are too heavy and will not be warm if they get wet. Similarly, the Boy Scout's canvas uniform pants are made of 67% cotton, and therefore, are not good for backpacking.